最近到了Hoboken公校preschool 2021-2022学年入学申请时间,如果家里有适龄宝贝的需要准备起来了。去年疫情刚开始的时候,我家娃才只有一岁半,那时候刚去了daycare一两个月,之后的一年都一直待在家里,普通话说的越来越流利,英文词汇量不到20… 想到她马上要开始preschool了还略有担忧😟
Hoboken Early Childhood Education Program
Hoboken Preschool有7个location
Joseph F. Brandt School; 215 9th Street
David E. Rue School; 301 Garden Street
Thomas G. Connors School; 201 Monroe Street
Wallace School; 1100 Willow Avenue
St. Francis Site; 310 Jefferson Street
Early Childhood Learning Center at Calabro; 524 Park Avenue
Early Childhood Learning Center at Jackson Street; 770 Jackson Street
和往年一样,Hoboken公立学校早教项目2021-2022学年的申请条件主要就是两条:
必须是Hoboken居民
宝贝在2021年9月30号是需要满3岁或4岁
项目介绍
每个班有一个老师和一个助教负责,最多有15名学生。
每天6小时,8:30 am – 2:30 pm。另外,所有的preschool locations都有提供before & after school care。
不同的location在提供食物方面的政策有所不同:
Mile Square Early Learning Center允许学生自带午饭
HOPES CAP 不允许任何外带食物
所有的location提供的食物都会考虑到学生过敏或者信仰方面的因素
一天的安排(只是一个例子):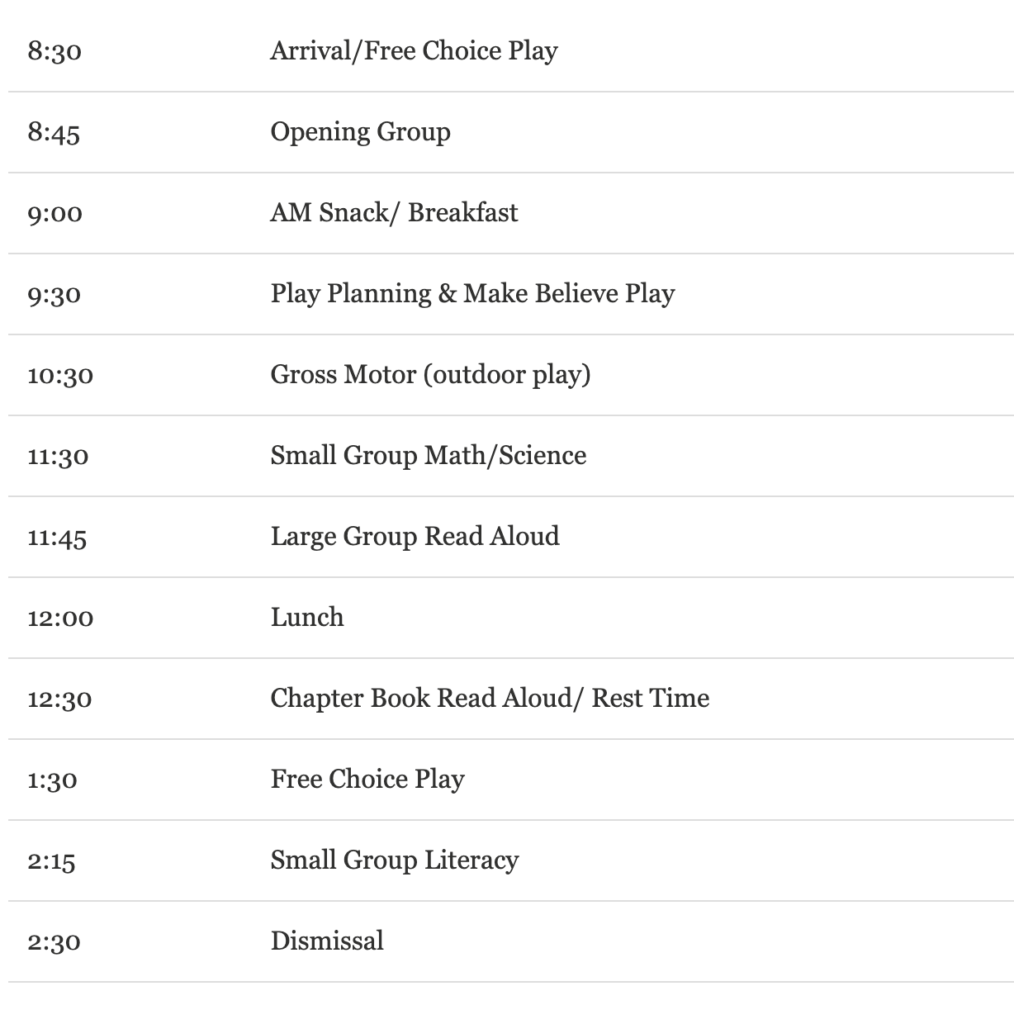 申请时间


On Site申请需要提前预约
☎️ 201-356-3695
🏢 David E. Rue School, Gymnasium, 301 Garden Street, Hoboken, NJ 07030
申请材料
1、一份lease,deed或mortgate statement
主要是为了证明家长租或者买在Hoboken。
2、一份utility bill或tax bills或bank statement
utility bill可以是cable, phone, PSEG bill,银行账单可以是信用卡账单,注意地址要吻合。
3、孩子的疫苗记录,上面必须有孩子的姓名和出生日期
4、本年度(2021年)的有儿医签名的体检报告
打电话给儿医说学校要一份Universal Health Form就行,他们都知道学校的要求。
5、孩子的出生证明或护照,家长的ID(可以是驾照或护照)
申请过程
建议可以先提前准备好上述材料的电子版,然后在3月22号开放在线申请后在http://www.hoboken.k12.nj.us/点击"Preschool Pre-Registration Link"直接申请。
3月23日更新:申请链接已经开放,截止日期周五下午3点。
第一步:添加孩子的profile
唯一需要注意的是学年要选2021-22,孩子在9月30号的时候如果满三岁就填3F,满四岁填4F。
第二步:添加住址,监护人联系方式,紧急联系人联系方式
第三步:上传申请材料,就是👆提到的那些
第四步:完成一个Home Language Survey,问题都是围绕孩子学习的第一个语言,和父母沟通的语言,和care-giver沟通的语言等等。
最后建立一个account,并确认提交就👌了。
不太清楚具体原因,我的浏览器上没有显示pdf confirmation,但很快就收到了email confirmation,附件里面有申请的summary和一个二维码,到这里应该就全部搞定等消息了!
常见问题
Q: Can I enroll my child in a half day program?
A: The Hoboken Early Childhood Program is a full-time, 6 hour-per-day program as mandated by the NJDOE-DECE. We do not offer a half day program.
Q: When will I find out where my child was placed?
A: Placement letters will be mailed during the early part of June. Family advocates will reach out to families over the summer months to arrange an intake interview. Lastly, prior to the beginning of school in late August/early September there will be a teacher Meet and Greet.
Q: Will my preschool aged child be placed with their sibling?
A: The Office of Early Childhood attempts to place preschool children as close as possible to their older siblings.
Q: Can I choose provider/ school location?
A: When applying to the Hoboken preschool program you are assigned a provider. The responsibility of the district in accordance with the New Jersey Department of Education-Department of Early Childhood Education and Family Engagement (NJDOE-DECEFE) is to offer a seat in the program.
Q: Can I request a location transfer?
A: The district goal is to ensure that all preschool age students who are accepted into the program receive a seat in an expeditious manner. We place our students first and then make transfers, if seats are available.
Q: Can I swap my seat with another family in the program for a provider/ location of my choice?
A: We transfer students based on the availability as communicated to us by families and in alignment with the current transfer list. We do not engage in "swapping" as it is not a transparent process and one that limits the availability to a small few.
Q: Does my child need to be potty trained upon entering the program?
A: Your child does not need to be potty trained.